January 27, 2019
My Weekly Workbench post is a day late this week… apologies. I'm running behind because as I come to the end of the Boxer Rebellion collection, I am pulling together the figures and terrain I have been collecting for years for my next project. That meant going in the shed and finding where it all had been tucked away. That took six hours on Sunday, and by the time I finished I just didn't have the energy to take the pictures of the week's work.
When workbench work began, there really wasn't anything on the workbench related to the Boxer Rebellion project. I was waiting for my final order from Old Glory 25s/Blue Moon to arrive. I was thinking about going back to my local train shop to purchase a few more trees and have another look at the bargain table to see if I had missed any Prieser figures being sold for 79 cents each, but I hadn't gone yet. So the need to do something hobby-related drew me to a toy patrol boat I purchased at the swap meet more than a year ago. I bought it for a dollar off a pile of cast-off toys. It had a lot of nice detail and was perfect for 28mm. Because it was not related to any specific project, it had been sitting on the workbench gathering dust for more than a year. With nothing else to do, its time had come. I set it on a base of Milliput to serve as water and to level the hull. I built a bow machine gun position out of Evergreen plastic and a toy machine gun left over from another broken toy. Once the Milliput was dry, I began painting, and I think it turned out rather nice. By mid-week the Blue Moon order arrived and I jumped right into getting it done: a breach wall section, a Nordenfelt machinegun, 10 German Sea Battalian troops, and some planters for the different legation compounds. With those done I took my trip to the model train shop and bought some trees, several Prieser chickens and a rather nice looking Prieser Victorian man out for a stroll. By the end of the week I had the trees based, some additional tree stumps set in Milliput, and all of them painted including the chickens, the Victorian man and some random stone walls.
My last project for the week had a Star Wars' focus rather than the Boxer Rebellion. A couple weeks ago I discovered that Micro Machines made an MTT with a playset inside entitled Trade Federation MTT/Naboo Battlefield. The significance of this find has to do with the fact that the external MTT (essentially the playset's carrying case) is the perfect size for my 28mm droids. Until making this discovery, I was convinced that all MTT droid transports were either far too small or far too large to serve with 28mm figures. The only big downside to this discovery is that these MTTs, if found on eBay, are expensive. Fortunately I had received some eBay gift cards for Christmas and was more than willing to invest them in an MTT or two if I could find them in my price range and in the right scale. I found two. One of them was missing its bow guns, but I believed I could build those out of Evergreen plastic and that was how I finished my workbench week. I took the gun measurements off the MTT that came with its guns and using Evergreen plastic made replacements for the missing guns my other MTT need. Worked out great. I'll paint them when I actually do the Star Wars project.
January 20, 2019
This week the workbench began with basing more trees for the Boxer Rebellion. With the basing complete and the Milliput dry, I finally got around to painting the bases for the trees I based awhile ago plus the tree bases just completed. Once those were done it occurred to me that I had covered the firing steps with removable Milliput scrubs on the walls attached to three of the legation entrances in order to allow me to use those in both the pre-siege and siege versions. But in order to justify that look on the pre-siege walls, I needed to provide tree stumps that could be placed at the bases of the siege versions of those walls since the scrubs would be removed once the siege began. Consequently I based 15 tree stumps in scored Milliput and painted those.
With the trees and stumps done I turned my attention to painting the remaining figures for this collection which included some Peter Pig seated peasants, a child on a water buffalo and two Peter Pig carts pulled by water buffalos. I also painted six peasant porters by Two Dragons, and three Essex pack camels; I checked, and China has camels.
I ended the week putting together my legation flags and putting on the base coat of paint in preparation for the decals. And I remembered that I still had some nice little detail pieces left in the Wyrd/Malifaux Zen Accessories pacts I had purchased for the Foo Dogs so I decided to paint them as well. Glad I did because I think they will look good on the grounds of the Japanese legation compound. I expect the arrival soon of the last order of my Blue Moon Boxer Rebellion figures and terrain: 1 pack of German Sea Battalian figures, a section of breached legation walls, a pack of tree plots/planters, a second International Gun to allow alternative basing and a Nordenfeld machine gun. Once those are done, all that remains of this project is the designing, cutting and painting of the Imperial Canal (I bought the spray paint on Saturday… Testors Dark Blue and Bright Blue) and a practice layout of the tables to make sure I have a clear plan before I do the final set-up for the photo session… don't want any big surprises with that.
January 13, 2019
This week's workbench was completely devoted to the Boxer Rebellion. It began with the painting of more Prieser figures found on the bargain table at my local model train shop… great figures at a great price (79 cents each). In addition to those figures I also painted an HO scale panel wagon that I purchased at the swap meet two or three weeks ago. It's a unique piece in that it was made by a company called Roskopf back when there was a West Germany and its price was 89 cents. I looked it up on eBay and found that the 89 cent Roskopf wagons from that era now have an asking price of $20 plus shipping. I paid $2.50. The driver for that wagon is one of the Prieser figures from the bargain table mentioned above. On that same bargain table I picked up several HO scale boxes of fruits and vegetables which I based on Milliput and painted up for use with my markets stalls.
With the figures done I went on to paint the pre-siege and siege versions of the British legation. This legation project is unique among the five I have painted in several respects. First it is by far the largest of the legations. It is also the primary defensive position held by the Great Powers during the siege. As a result of that, Blue Moon cast this compound in a far more bunkered-up fashion than the others. That is reflected in bricked and sand-bagged windows in the main entrance, the main building and a blockhouse-style building within the compound's grounds. Consequently in order to have a pre-siege version I had to scratch-build the main gate as well as the walls. I had to use a different building for the main building… I used an old Ian Weekley building I have owned for years but never before had a use for. I also purchased an additional blockhouse from Blue Moon and gave it as much of a pre-siege look as I could. The last unique element to painting the British legation is that it is the only legation for which I actual found a color description of the roof tiles… green.
My final work this week was painting a few of the planters that will go inside the different legation compounds. They will ultimately reflect the pre-siege and siege periods in that the pre-siege planters will have their trees and the siege planters will only have tree stumps.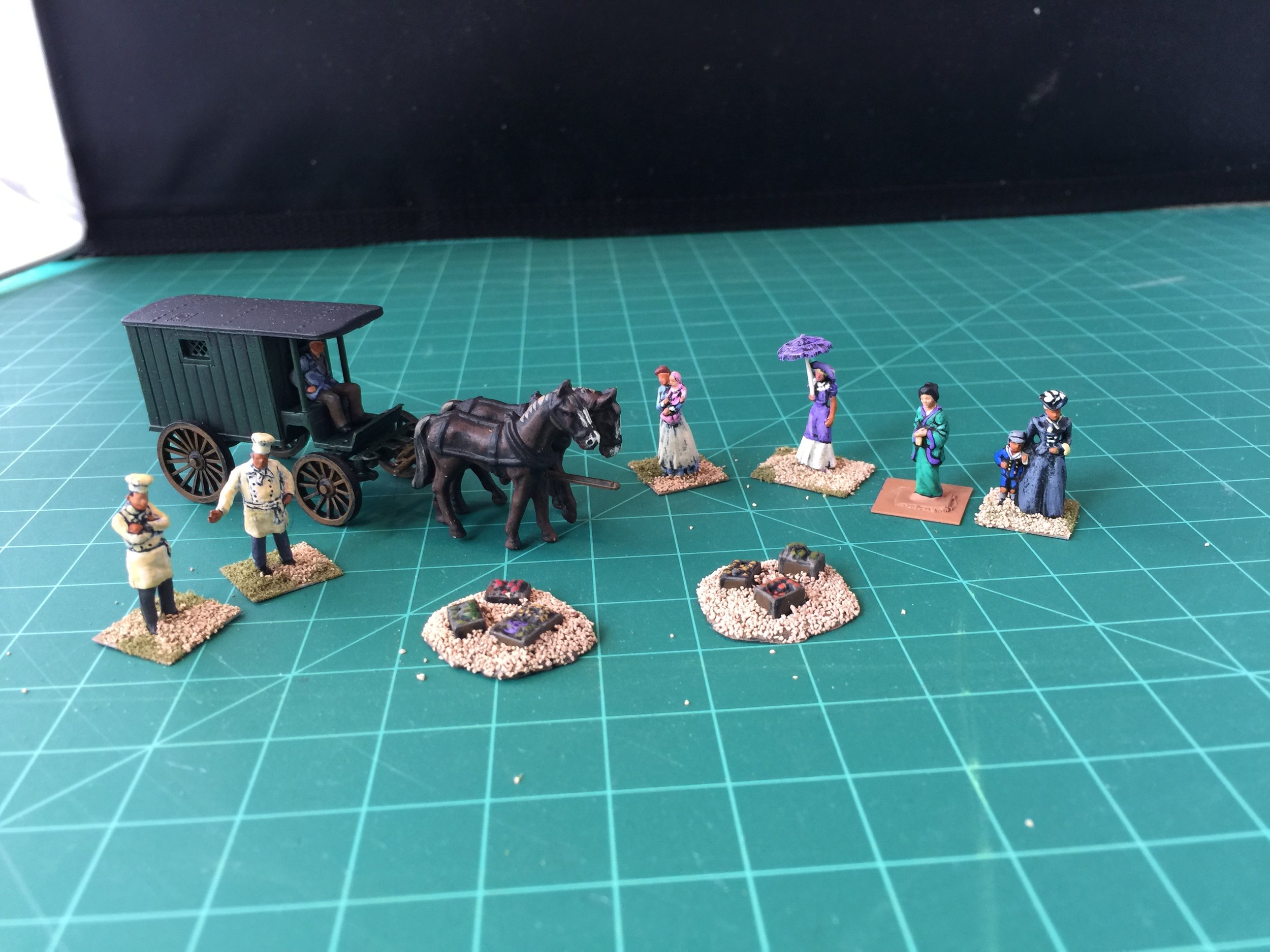 January 6, 2019
The workbench week opened with a new year at the top of the page and my hobby focus on the Russian legation. The paint work on this legation went well, but where panic set in was when I discovered that I had misnumbered and failed to number sections of the scratch-built (pre-siege) version of the Russian legation walls. It took more than an hour to figure that puzzle out. With that completed, I turned my attention to a couple of small projects: basing some trees on stands that came with the Japanese legation, and painting four Buddha statues I picked up for 79 cents each from the bargain table at my local model train shop. In terms of the tree bases for the Japanese legation (there are two), I decided to add a low scrub surround (scored Milliput) along the edge of the garden plot to give it a more finished look. One would be the before version (pre-siege) and one would be the siege version… trees gone. I gave the Buddha statues two different color looks, and I'm happy with both. What made these so attractive to me is their small size. They are only an inch tall. It's easy to find Buddha statues, but not that size.
With the above work finished I turned to painting the US legation… no small task. It took a couple of days to complete, but I'm happy with the end result though, because of the size of the compound, my photos aren't great. That's four legations (pre-siege and siege) completed, and one to go… the British legation that is the largest.
I closed out the week by painting some Prieser HO Victorian figures I found on the bargain table at my local model train shop. If you are not familiar with Prieser, they offer a huge range of figures from different periods and in very interesting poses. I have posted work I've done on them from this project in previous postings. Prieser figures are expensive. A pack of six figures can cost between $15 and $20, so when I saw these Victorians for 79 cents each, I bought them. Prieser figures generally come pre-painted. I tend to repaint them so they will match the look of my other figures. The person who owned them before me had also repainted them… terrible job in my opinion so repainting was absolutely needed. I bought a lot of these nicely priced Priesers so I will continue painting them next week. I've attached an additional picture of my bridges on this week's Weekly Workbench not because I worked on these this week, but because I decided it would be nice to have a photo of all three types of bridges I have as options for this project. I have also included a picture of four market stalls that I did a couple decades ago for my Sudan collection because I am going to use them in the Boxer Rebellion project as well, and want the photo record despite the fact that I'm using them just as I made them back in the day.